Time to add mote power!
Motor:
I.R.S. Stage II ported heads:
2.0" intake 1.56" exhaust (S.S.valves backcut and swirl polished)
Comp Cam .600 lift springs, titanium retainers 10 degree locks and guide plates.

Intake has been port matched to the heads, ported to insure a cleaner spray pattern and opened to accept a 58MM throttle body.

Lingenfelter 211/219 Cam w/ C.C. 1.6 Rockers = .533/.560" lift
IRS built 52MM TB, Moroso CAI, 1LE intake elbow
MAC headers W Paul Barry coating, high flow cat.
SLP A.F.P.R. w/24lb flow matched injectors
Accel coil and 300+ digital ignition W/Rev limiter
160 degree thermostat and 185 degree fan switch



Drivetrain:
SLP lightweight flywheel + McLoed duel Friction Clutch
Lingenfelter 3.5" aluminum drive shaft
B+M ripper shifter
Stock 3:23 gears replaced with 3:42 gears
MAC gear cover support W/stud kit
IRS Adjustable panhard rod and L.C.A
LG strut tower brace
SLP Subframe connector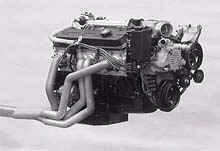 Now some work just for show,,,,

While the motor was apart I put allot of time, money and effort into the engine bay. Almost everything was removed, all of the flat black factor paint was sanded, primed and painted to match the body.

All of the aluminum peices where then polished. I started with the intake. The factory raise runners on top of the manifold were removed using a metal file, then the polishing process began. This turned out to take allot longer then I planned. From start to finish I'd estimate over 100 hours went into the manifold. I think results were worth the effort.

Then the waterpump, alternator, throttle body, fuel rails and brackets and finally
and the hardlines where polished. For the final assembly, the steel bolts were
replaces with polished aluminum peices and IRS valve covers completed the motor.


Web Site:
John's web site