1993 CAMARO Z28

This site is about my 1993 Camaro Z28, the modifications I have made (so far) and the local car clubs I belong to.


ABOUT THE CAR

My car is a 1993 Camaro Z28 6speed manual. It is equiped with every options except
T-tops. I bought the car used in the fall of 1995. The original owner decided he was not going to attempt another Pennsylvania winter with a performance car. Snow, horsepower and living on a hill just don't mix.

When I bought this car I sold my 1984 contour edition Z28. Althought the 84 looked stock on the outside, under the hood was a 355 motor that was modified with many performance parts. I do regret not being able to keep it. I won't make that mistake again! I intend to NEVER sell this car. This car will be a life long project.

Eventually I hope to have a a 10 second street car that will be at home on the track and at a car show. But I'm still along way from that!



Where to find me:

I belong to various car clubs in the PA and NJ,
area and a few online clubs as well.

Send me an e-mail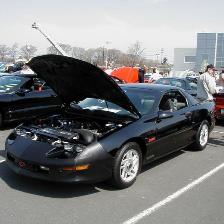 The photo above was taken at
the Cops~N~Rodders show.
04/22/01 Brunswick NJ.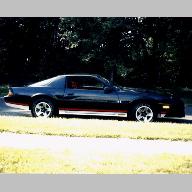 My old 1984 Z28